We are happy to announce the awesome new release of BlogJet 2.6.1, our blog editor for Windows.
What's New
Live Preview and Markdown support.

Shortcut for Post as Draft (Ctrl+Alt+Enter).

Asking to save draft after publishing or posting as draft problem fixed.

More about preview and Markdown
You can now preview your post while writing. Because preview window supports Markdown filter, you can easily write Markdown-formatted text.
Each blog account has a preview template file, so you can edit preview file to apply different styles to different blogs. Preview template is stored along with accounts file (not Program Files/BlogJet/Data because it need admin account to write it on Windows Vista and 7). Click "Edit Template" button in Preview to open folder with template file.
This preview file is also used in Recent Posts preview.
Note about Markdown preview. When you select Markdown filter, Normal view (WYSIWYG Editor) is disabled because switching between Code editor (Markdown text) and Normal editor would have corrupted your Markdown text. You can set default preview filter option at Manage Accounts (F5) window.
Please note that Markdown-formatted text is not converted to HTML by BlogJet when posting, it requires you to turn on Markdown filter in your blog server. It's easily done in WordPress and Movable Type — please refer to your blog server software documentation.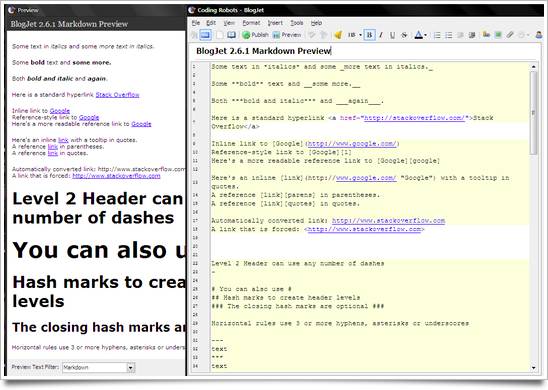 Download
As usual, you can download the new version of BlogJet from its product page.